Meet the Artist - Mr. Nilsen
Mark Nilsen loves being a street artist which in New York City means a lot of passersby run into you. People vary depending on time and location. At 2 am when Nilsen is out on the street painting, he's more likely to chat with dog walkers and night owls, and at 4 pm he speaks to tourists and art lovers at his foldable stand. "But hey," Mark notes "you never know who you'll meet."
Of all the streetscapes he shows, the most beloved and best selling is the 'NYC Sewer' it all started with. Nilsen has painted that manhole cover approximately 800 times but he is still not tired of it. For him painting a subject over and over again means studying it very closely and understanding the design and his own technique more thoroughly.
"The 'NYC Sewer' is great! It's got the text 'NYC Sewer',-- says it all. The rectangle pattern throughout the cover creates a great expressive rhythm depending on how I shift the canvas between color layers. Each painting I did of the 'NYC Sewer' is a unique piece of art expressing my love for the greatest City in the World." he smiles.
by Ginger Deluca
for NYCSEWER.com
Published: August, 2003
Meet the Artist - Mr. Nilsen
page 1 | 2 | 3 | 4 | 5

Read the 'New York Times' article»
Look at Mark Nilsen's Paintings»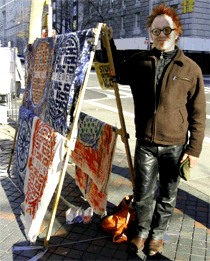 Mark Nilsen standing next to his
wooden easel at the NYC
Metropolitan Museum of Art.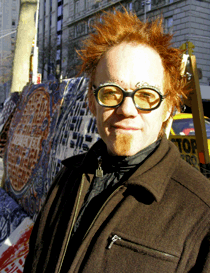 The red haired New York City
artist Mark Nilsen smiling.