Meet the Artist - Mr. Nilsen
While Mark changes rollers and colors, the paint dries and the canvas gets ready for another layer. Nilsen may nudge the painting a little bit to one side or bring it to an all together different part of the street before he rolls on the next layer of paint. Afterwards he might realign sections of the canvas on top of the initial spot to add additional colors.
Repeating the process of putting color on the canvas and letting it dry while mixing a new hue, Nilsen builds up a rich blend of up to twelve layers. The different color and paint density of each layer bring out even the finest details of pebbles and cracks in the sidewalk.
Although the basics remain the same, every night and every painting holds surprises. The street, the mood, the light and the weather always differ and effect how the painting takes shape. All those quirks that a painter can only encounter outside his studio make Mark love painting on the streets. It takes a blizzard or a heavy rainstorm to keep Nilsen inside. Gusty winds pulling on his canvas or winterly cold that makes his paint come steaming out of the tube and freeze quickly don't stop him from creating his remarkable works.
Meet the Artist - Mr. Nilsen
page 1 | 2 | 3 | 4 | 5

Look at Mark Nilsen's paintings»
More photos of sewer covers»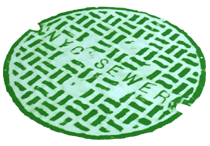 The first layer of green paint
on the canvas. (Detail)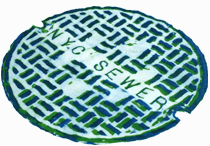 The same painting after Nilsen
applied a second layer of
blue acrylic paint. (Detail)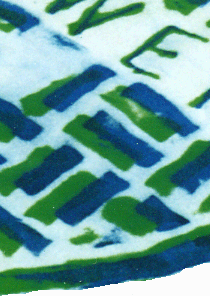 Nilsen's way of layering the different
colors creates a new dimension
on the canvas. (Detail)