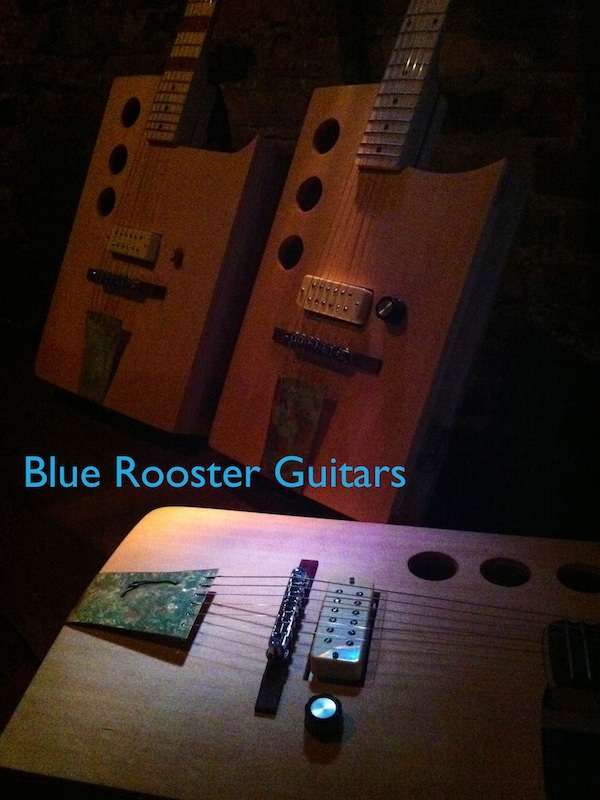 "I beg the wood to become a guitar", says Nilsen, an anti-luthier. "Then I saw, sand and glue while singing old blues songs and 70s pop tunes acapella. I figure the guitar eventually will back me up, bail me out, or launch into a feverish string bending solo just to get me to shutup!! That's when I know the guitar is finished!"
Mark Nilsen has been playing the guitar for 40 years and building art guitars and experimental stringed instruments since the late 90s. His epic relationship to the guitar guarantees every Blue Rooster has something about it that a seasoned player looks for.
"Yes, every instrument looks good, plays well but it is the intangible that I promised myself to explore when I set out to start the Blue Rooster Guitar Company", says Nilsen. "I have played great guitars for $75 bux and great guitars for $7500 bux. And I have played horrible guitars costing the same. It's that thing that makes a guitar great that you can't put a price on that my guitars have. Something only a true player can feel."
It's those ideals that give each Blue Rooster Guitar it's unique voice. Rock-a-Doodle-Doooo!!!!